5.47pm BST
17:47
DoJ won't prosecute Ross for misleading Congress on Census
A government investigation has found that Wilbur Ross, Donald Trump's commerce secretary, misled Congress about why he wanted to add a question about citizenship to the 2020 Cencus.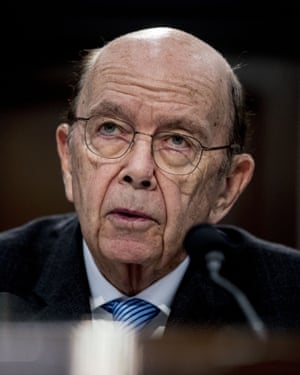 It is a federal crime to make false statements before Congress, but Joe Biden's Department of Justice will not prosecute Ross.
Critics said the Trump administration was trying to influence districting for elections by adding a question about citizenship to the Census, as undocumented people would therefore avoid the survey and cities with high populations of such people, which tend to vote Democratic, might consequently lose seats.
The AP explains:
According to critics, the citizenship question was inspired by Republican redistricting expert Tom Hofeller, who had previously written that using citizen voting-age population instead of the total population for the purpose of redrawing of congressional and legislative districts could be advantageous to Republicans and non-Hispanic whites.
In congressional testimony, Ross said the Department of Justice requested adding the citizenship question to the census form in late 2017 for the purpose of enforcing federal voting rights law. The inspector general said that "misrepresented the full rationale".
The supreme court blocked adding the question ahead of the 2020 Census.
Ross, now 83, is a longtime Trump associate who features in many of the rash of recent books about the Trump administration – often for falling asleep during meetings and speeches.
Here's Sam Levine on what ultimately happened regarding districting after the Cencus was done:
Updated
at 5.48pm BST
.