Elon Musk says Twitter deal is on hold until he gets more information about fake accounts
Just in: Elon Musk's $44bn deal to buy Twitter is "temporarily on hold" until he gets more information about fake accounts on the platform.
The billionaire has tweeted that the deal is on hold, waiting for details supporting the calculation that fake and spam accounts represent less than 5% of the users on its platform, as Twitter said in a filing earlier this month.
Musk linked to a Reuters report, which said Twitter estimated that false or spam accounts represented fewer than 5% of its monetizable daily active users during the first quarter.
The news has sent Twitter's shares plunging around 23% in pre-market trading, on concerns that the deal could collapse.
They've on track to open at $34.60, down from around $45 last night, and away from Musk's agreed offer of $54.20.
Musk has previously said that one of his priorities once he bought Twitter would be to remove "spam bots" from the platform.
But he also warned earlier this week that the deal would take at least another two months to complate, and was "not a done deal."
That takeover has already led Twitter to announce a hiring freeze, and the departure of two top leaders in a major shakeup.
Eurozone industrial production declines as Ukraine war takes toll
Factory output across the eurozone fell in March, as rising input prices and supply chain disruption due to the Ukraine war hit the sector.
Industrial output from factories, mines and utilities across the region declined by 1.8% in March – the first full month of the conflict – compared with February, and were 0.8% lower than a year ago.
Production of capital goods fell 2.7%, suggesting demand for heavy duty machinery, equipment, vehicles and tools declined as economic uncertainty rose.
Production of non-durable consumer goods declined 2.3%, while intermediate goods (used to make goods for sale) dropped 2.0%, and energy fell 1.7%. But production of durable consumer goods rose 0.8%.
Germany saw one of the largest monthly declines, with production down 5%, along with Slovakia (-5.3%) and Luxembourg (-3.9%), while the highest increases were observed in Lithuania (+11.3%), Estonia (+5.1%), Bulgaria and Greece (both +5.0%).
'Golden era' of cheap food is ending, says ex-Sainsbury's boss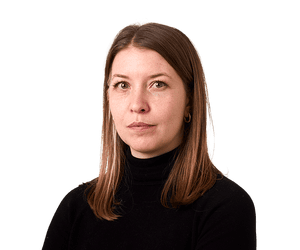 Kalyeena Makortoff
The UK's "golden era" of cheap food is coming to an end, the former Sainsbury's boss Justin King has warned, saying households should be prepared for higher grocery bills in the long term.
King claimed supermarkets could not be expected to absorb the extra costs entirely or protect consumers from rising prices, despite having announced higher earnings, as their net profit margins are only around 3%.
Instead, shoppers must making hard choices on how they spend their money, particularly as soaring inflation – made worse by the ripple effects of the war in Ukraine – pushed up prices on supermarket shelves.
King told BBC Radio 4's Today programme
"We have been perhaps through a golden era. We spend much less as a proportion on average of our household budgets on food than we had almost any time in history, and that's been [on] a long, gentle decline. So I suspect what we will see is a higher proportion, across the piece, spent on food for the longer term.

"It won't actually be that high in historical terms but it will require adjustments in terms of how we all prioritise our family budget spending," King added.
Here's the full story:
Jacob Rees-Mogg's call for higher UK interest rates comes amid growing irritation, and worse, against the Bank of England over its performance.
Conservative MPs are blaming the BoE for failing to get a grip on inflation, creating the cost of living crisis (for which the government has few answers, critics say)
Some argue the Bank should not have waited until last December to start lifting interest rates, as the FT explains:
Liam Fox, a former cabinet minister, told the Commons that the BoE had "consistently underestimated the threat" of rising inflation, which the BoE fears could top 10 per cent later this year.

"The BoE persisted beyond any rational interpretation of the data to tell us that inflation was transient, then that it would peak at 5 per cent," he said. Fox said the Commons Treasury select committee should launch an investigation into the central bank's handling of inflation.

His comments reflect growing anger on the Tory benches towards the BoE. One member of the government said that the BoE had "got it completely wrong at every single moment of this crisis" and it should have "obviously" tightened monetary policy sooner.
Rees-Mogg calls for higher interest rates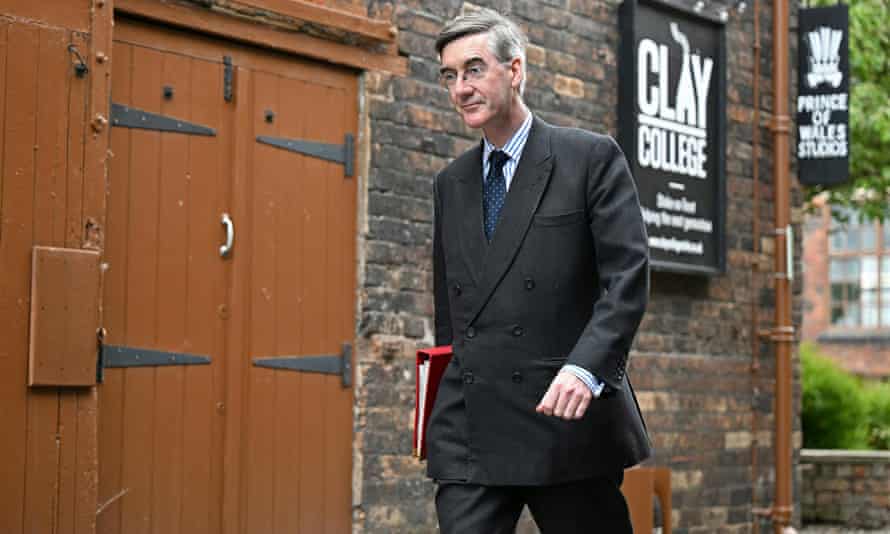 Brexit minister Jacob Rees-Mogg has urged the Bank of England to hike interest rates, and rejected calls for an emergency budget to help struggling households.
Speaking to Times Radio, Rees-Mogg said 'tighter monetary policy', ie higher borrowing costs, would help cool inflation, which could hit 10% by the end of the year.
But he pushed back against helping people now through higher spending, even through calls for more assistance grow daily.
Rees-Mogg said:
"The right responses are tighter monetary policy, which is the responsibility of the Bank of England, and constrained fiscal policy.

An emergency budget is not likely to be an answer to this. What is going to be an answer are essentially long-term measures combined with the immediate help that's been given to people who are particularly affected."
But…'Long-term measures' don't help people who simply don't have the money to pay surging energy bills and rising food costs, though, which is why the boss of John Lewis yesterday called for a financial support package.
The Bank of England is itself split over how fast to tighten policy. It raised interest rates to 1% last week, but three of the nine policymakers on the MPC wanted a bigger jump to 1.25%.
The committee is also divided about much further tightening will be needed, as it tries to balance pressures from inflation and slowing growth.
Rees-Mogg, meanwhile, told GB News that increased public spending would fuel inflation:
"The problem with spending more money is you make the inflationary problem worse rather than better.

This is very difficult for politicians because with a cost of living problem there aren't easy popular things to do, and if you do those you make the problem worse."
But, a fiscal tightening at a time when the economy is alreading slowing, increases the risks of a downturn…. and sounds like a return to the economic policies of the 1980s…
The US stock market has borne the brunt of this week's turbulence, due to the tumble in technology giants.
The Nasdaq Composite has shed 6% so far this week, while the UK's FTSE is currently down less than 1% for the week, and Germany's DAX is actually over 1% higher.
So far this year, the Nasdaq Composite has lost 28% — as investors turned cold on fast-growing tech stocks which had previously enjoyed generous valuations based on their future prospects, not their current profits.
The Financial Times's Richard Waters has calculated that the five biggest tech companies have shed nearly $2.6tn in value since the start of the year, a 26% drop.
But the axe is hanging ominously over smaller, high-growth tech companies, he adds:
This is where valuations became most stretched, and where the market is having most trouble finding its nadir. As investors grope for more appropriate financial yardsticks with which to judge these companies, as well as the right valuation multiples to apply to those metrics, volatility is likely to remain high.

Multiples of revenues were a favourite that growth investors used to chase stocks higher, at least until the turn that set in last November. On this measure, there is ample room for further declines, particularly since markets often overshoot on the way down as well as on the way up.
And here's a reminder of just how sharply tech stocks have fallen: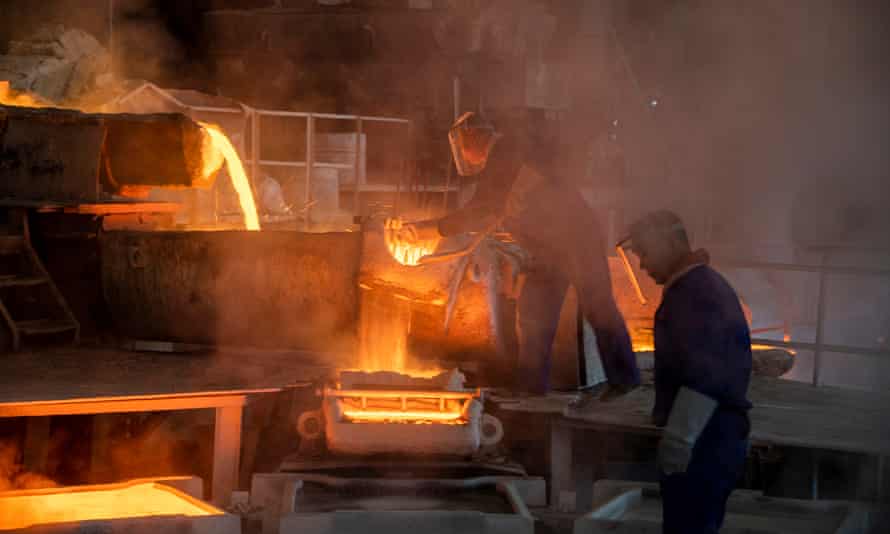 Recession fears have also hurt copper, seen as a good measure of the health of the global economy.
Copper is trading around a seven-month low in London today, at around $9,051 per tonne.
That puts copper on track for its sixth weekly fall in a row, due to fears that a global economic slowdown will hit demand.
Cryptocurrency prices are recovering some ground this morning.
Bitcoin (still over $30,000) and Etherium are both up around 9% over the last 24 hours, but that only recovers a little of this week's heavy losses.
Ipek Ozkardeskaya, senior analyst at Swissquote Bank, says the dust seems to be settling in cryptocurrencies.

Terra and Luna are now worth almost nothing and probably won't regain the investors' confidence, and Tether, another stable coin had a mini crash to 0.95, BUT it recovered fast before things got serious, and Bitcoin returned past the $30K, which is a sign that the confidence in the broader sector may have not been damaged as much as we first feared.

This being said, the crypto investors will certainly be pickier in selecting their holdings from now on, as the Terra incident comes as a warning that the cryptocurrencies can crash as fast as they emerge.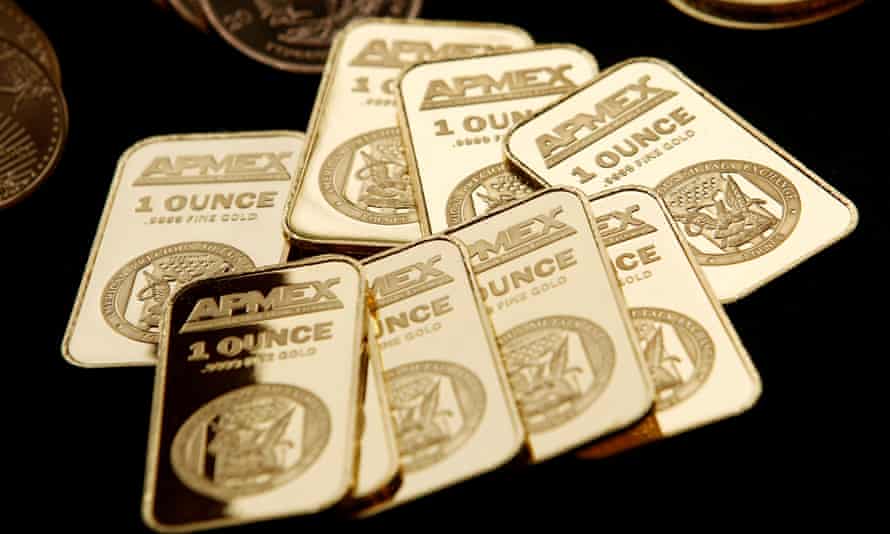 It's also been a rough week for gold, which hit its lowest level since February.
Spot gold has dropped around 3% this week, and is trading around $1,826 per ounce, on track for its fourth weekly drop in a row.
Gold is often pitched as a hedge against inflation, and market volatility, so you might have expected a rally. However, gold's lack of a yield can count against it — the rise in short-term interest rates and bond yields mean there are better opportunities to make (or lose!) money.
Also, the surge in the US dollar to a 20-year high has hit prices of assets priced in dollars.
Craig Erlam of OANDA says:
The yellow metal has well and truly fallen out of favour recently, despite the risk environment being primed for safe-haven assets.

It's easy to forget though that the price is already extremely high and interest rates are rising at the most aggressive rate in decades. And that could accelerate further if the inflation data doesn't improve.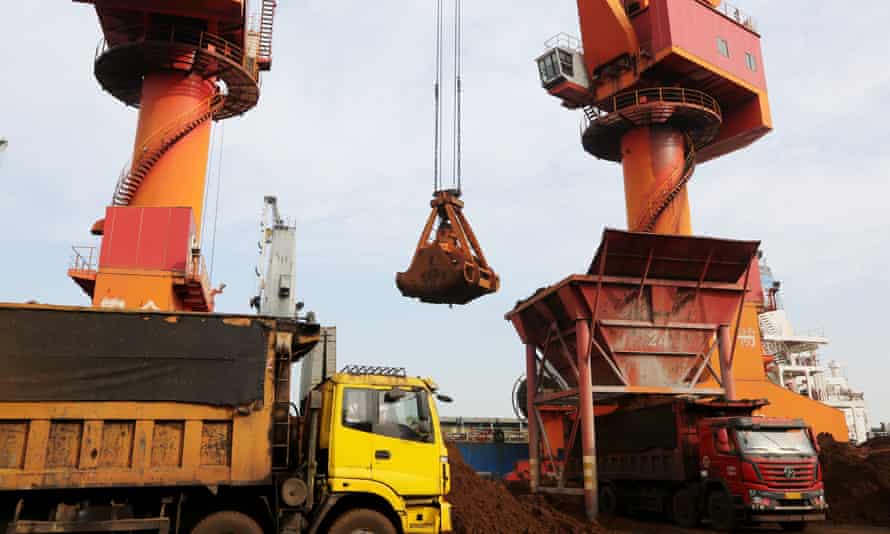 Iron ore prices are heading for its biggest weekly drop since mid-February, as China's Covid-19 restrictions hit demand.
The steel-making ingredient was steady near $126 a ton in Singapore on Friday and is down around 9% this week, according to Bloomberg data.
The lockdown in Shanghai, and curbs in other cities, is hitting demand for steel — while the wider global slowdown could also weigh on factory activity.
Bloomberg explains:
Iron ore has fallen around a quarter from this year's peak in early March as the virus restrictions spread. The lockdowns are making it hard for the government to deploy infrastructure spending, and are occurring at a time of year when construction typically ramps up after winter.

"China's virus-related restrictions are weakening the impact of support measures during the peak construction season and property indicators are down," Australia & New Zealand Banking Group Ltd. analysts including Daniel Hynes said in a note. "Steel production could increase, though looming control measures are a downside risk."
Concerns about China's property sector rose this week too, after developer Sunac China missed a bond repayment.
Reuters: Bitcoin set for record losing streak as 'stablecoin' collapse crushes crypto
Cryptocurrencies nursed large losses on Friday, with bitcoin trading near $30,000 and set for a record losing streak as the collapse of TerraUSD, a so-called stablecoin, rippled through markets, Reuters reports.
Crypto assets have also been swept up in broad selling of risky investments on worries about high inflation and rising interest rates. Sentiment is particularly fragile, as tokens supposed to be pegged to the dollar have faltered.
Bitcoin the largest cryptocurrency by total market value, managed to bounce in the Asia session and traded at $30,300, up 5%. It has staged something of a recovery from a 16-month low of around $25,400 reached on Thursday.
But it remains far below week-ago levels of around $40,000 and, unless there is a rebound in weekend trade, is headed for a record seventh consecutive weekly loss.
"I don't think the worst is over," said Scottie Siu, investment director of Axion Global Asset Management, a Hong Kong based firm that runs a crypto index fund. More here.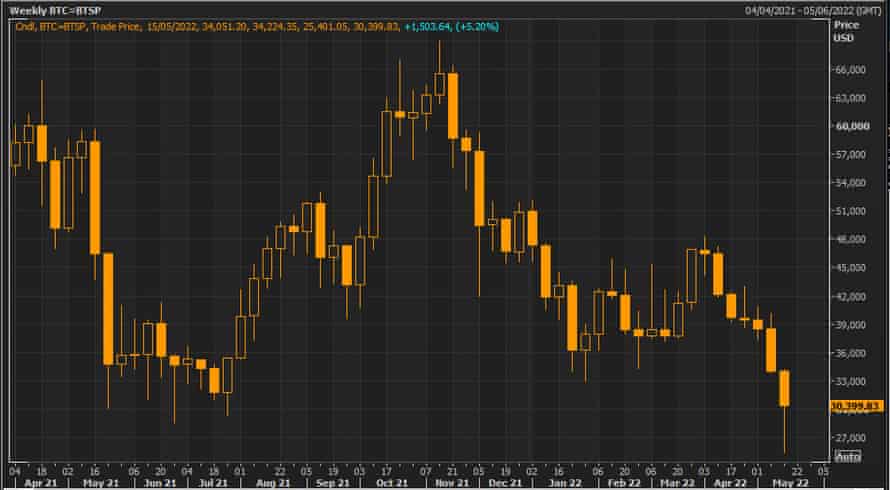 European markets open higher
There's some relief in the European markets this morning, with stocks opening higher after a choppy week.
In the City, the FTSE 100 index is up 71 points, or 1%, led by online grocery business Ocado – up 5% (but still down 50% so far this year).
Financial stocks are also rallying, with Standard Chartered (+3.2%) and Prudential (+2.8%) in the risers.
Susannah Streeter, senior investment and markets analyst at Hargreaves Lansdown, says:
''Investors are continuing to wrestling with worries over inflation as the oil price climbs back up again and supply concerns resurface amid ongoing geo-political tensions.

As the era of cheap money has hurtled to an end, lowering liquidity in the markets, trading in the sessions ahead is set to stay volatile. On Wall Street the S&P 500 was just a whisker away from a bear market before rebounding and the growls are continuing at the spectre of stagflation hovering over economies.
Introduction: Markets on edge after volatile week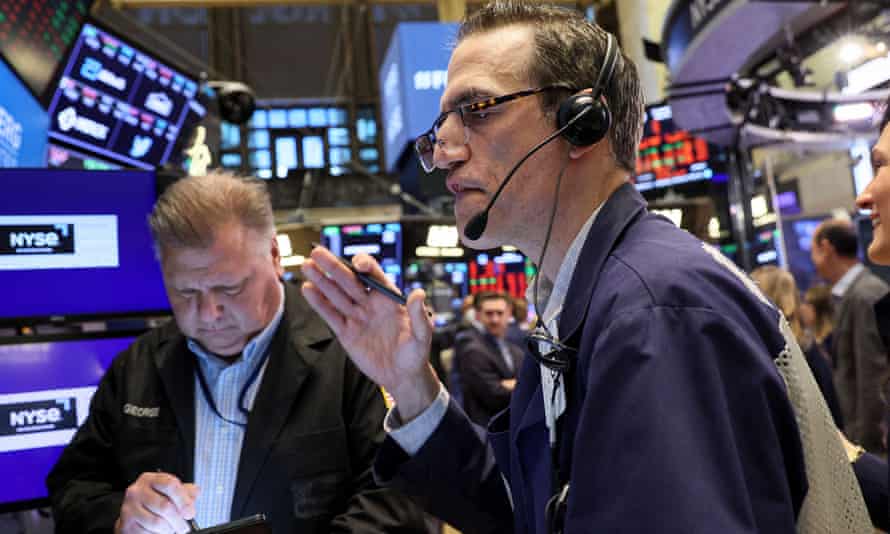 Good morning, and welcome to our rolling coverage of business, the world economy and the financial markets.
It's been a bruising, and confusing, week in the markets. Volatiltiy has spiked, triggered by growing signs that the world economy is slowing, and fears of recessions in some major economies including the UK.
Wall Street is on track for its worst week since early January, with the S&P 500 index having lost over 4.7% since Monday morning (although there's still time for a recovery, or another jolting fall, today).
That would be the S&P 500's sixth weekly loss in a row, the worst streak of weekly losses since 2011, when it also fell for six weeks running amid the eurozone debt crisis.
Last night, the S&P 500 fell to the brink of a bear market, as fears over the health of the global economy, high inflation, rising interest rates and supply chain disruptions hit assets.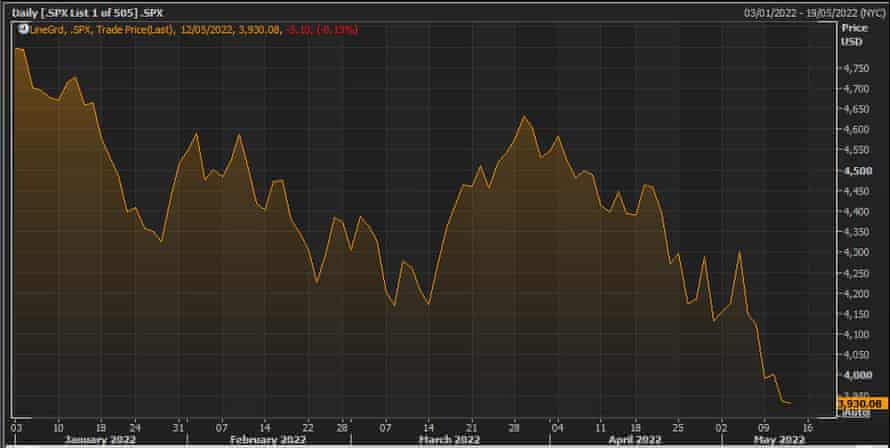 Jim Reid, market strategist at Deutsche Bank,says there has been some "incredible intraday volatility" across a range of asset classes.
At one point in the New York afternoon, the S&P 500 had been down -1.94% at the lows, which left it just shy of a -20% decline since its all-time closing peak that would mark the formal start of a bear market.

But then in the final hour there was a major recovery that meant the index only saw a modest -0.13% fall on the day, even if that still marked a fresh one-year low. Futures markets are implying we're going to see that rally extended today, with those for the S&P up +0.92% this morning.

But even if we do see a recovery of that sort of magnitude, then the major losses we've already seen this week mean it would still be the first time in over a decade that the index has posted 6 consecutive weekly declines.
The turmoil in the crypto market has also added to tensions in the wider markets. The meltdown of TerraUSD this week, and the luna coin linked to it, showed the risks of stablecoins which claim to be fixed to a certain asset.
Panic deepened yesterday as another major stablecoin, Tether, failed to maintain its link with the US dollar. Tether (which is meant to be pegged at $1), dropped as low as 95 cents… and although it has recovered, it's not yet recovered that $1 peg.
Ratings group Fitch said the troubles at Tether and TerraUSD "highlight the fragile nature of private stablecoins, and will accelerate calls for regulation".
The wobble sent Bitcoin reeling to 16-month lows towards $25,000 las night — although it has bounced back to $30,000 this morning. Reuters reports that bitcoin is headed for a record seventh consecutive weekly loss.
Investors are also fretting that the US economy could suffer a 'hard landing', as interest rates are raised sharply.
Overnight, Federal Reserve Chair Jerome Powell warned that a 'soft landing' could be out of his control.
Powell told NPR's "Marketplace" that high inflation and economic problems beyond the US could thwart his efforts to cool prices without causing a recession.
"The question whether we can execute a soft landing or not — it may actually depend on factors that we don't control.

There are huge events, geopolitical events going on around the world, that are going to play a very important role in the economy in the next year or so."
Powell also signalled the Fed willpush ahead with 50bp hikes at the June and July meetings. And he warned that bringing inflation down to target will "also include some pain", but it would be more painful if inflation got entrenched.
The agenda
10am BST: Eurozone industrial production report for March
3pm BST: University of Michigan's survey of US consumer sentiment
5pm BST: Russian